As you saw, I just posted my 10-week European itinerary that I did post-graduation last year. Somewhere along the way, my friend Emma got the big idea to spend a week in Iceland (a week that perfectly aligned with the beginning of my trip). Thus, our Iceland road trip was born. Now Iceland is an Instagrammable dreamland, and very trendy (and cheap) to travel to right now. With Iceland Air's #MyStopover promotion (basically a free layover in Iceland on flights to Europe), we were able to score a super cheap one-way ticket to London, with a week in Iceland.
Our trip was far from perfect, but I've adapted it to be what would've been my "ideal" itinerary to share with you here around the entire Ring Road. For incredible waterfalls, breathtaking landscapes, and a land that literally knocks the wind out of you (with wind), read on…
TLDR Summary:
Plan: Rent a campervan (ours was from Go Iceland), and drive around the country via the Ring Road for a week.
Time of year: End of March – Early April
Weather: WINDY (and I cannot emphasize this enough), fairly cold, but manageable for us Pacific North-westerners in our backpacking gear. Prepare for whiteouts that may cause road closures.
Tips: Keep in mind the time of year you're going, and type of vehicle you have. We originally wanted to make it out to the West Fjords (as well as some things on this list below) that our campervan just wasn't capable of handling– and that's okay! All in all, I'm happy we were able to do the trip this way, but you do have to be aware of these limitations when driving around such an unpredictable island.
Day 1: The things you see everyone doing in Iceland
My flight happened to land in the KEF airport at 7:00 am, which is perfect timing for a morning dip in the Blue Lagoon. A lot of people will say skip this lagoon and find another hot springs in Iceland (which we also did), but I don't regret paying for it even if it was a tourist trap. It was still a bucket list item I wanted to check off, and it happened to fit perfectly with our day.
Our campervan had the option to pick up at the airport, and the 24 hour timer started as soon as we picked it up, so we decided to do the Blue Lagoon before picking it up so we would have some extra hours to return it on our final day. In order to make this work, we purchased a roundtrip FlyBus ticket to/from the airport and Blue Lagoon.
The FlyBus was scheduled for 7:30 am in coordination with our Blue Lagoon ticket at 8:00 am. The return ticket to the airport picked us up around noon (which was later than ideal, but we had to choose between 10:00 am and noon, so we opted for more time rather than less).
The Blue Lagoon: Honestly this was a semi-miserable experience for us that morning due to weather, although I've heard it can be enjoyable given the correct circumstances. It was insanely windy, cold, and the lagoon honestly wasn't as warm as expected. We basically ran in the lagoon to get photos, and ran back out (in shifts, because it was too cold to stay out there). With every 1 stunning photo we got, there were 100 terrible corresponding photos. After we were satisfied with the lagoon, did our charcoal face masks (not impressed), and showered in the locker room assembly lines, we shuttled back to the airport to pick up our campervan. It was totally worth it to say we did it and see the lagoon (which was beauuutiful on its own), but also a laughable amount of misery at the time.
Picking Up the Campervan & Running Errands: We ran through the basics of the campervan with the company (i.e. how to set up the upper bed, move the inside for sitting room, and use the cooking supplies), picked up groceries for the week, then set off for the Golden Circle– the most touristy part of the Ring Road, since it can be done in a day or two from Reykjavik. Our itinerary for the rest of the day, which essentially took us up until the moment of nightfall.
Haukadalur Geyser: Our first stop in Iceland, and we were impressed! It was fun waiting to watch the geyser blow, and not knowing which direction the spray would be in. It was a fun 20 minute pit stop before getting back on the road.
Gullfoss: The waterfall was beautiful, but it was the first time I've ever experienced the kind of wind that made it hard to stand or breath. We ran out of the car to take photos, then ran back in for shelter. This ended up taking around 15 or 20 minutes before we couldn't handle the wind.
Seljalandsfoss: We ended up just driving up to this one without walking up to it, and continuing our drive to beat the daylight. We ultimately spent about 5 minutes on this one.
Skogafoss: We decided to camp out in the parking lot here for the night. A lot of other campervans were doing the same thing, and we were near a restaurant/hostel so we could go in for dinner/breakfast to use their bathrooms. Spent the rest of the night here, then woke up to see it at sunrise.

Day 2: The craziest. Wind. Ever.
Solheimasander Plane Wreck: The first thing we wanted to do was the "hike" to the infamous plane wreck. Unfortunately, we used the strategy of: locate on Google Maps, and walk as close as we can. While this did work, we took a much less user-friendly route (that involved crossing a river), than the recommended and marked pathway. Lesson learned… The plane wreck was incredible to see, but the walk was long and the most extreme wind I have ever experienced. Come prepared, and know where you're going!

Seljavallalaug Hot Springs: This is one of the oldest pools in Iceland, and an Instagrammers dream. It's located in the basin of beautiful mountains, which makes for such a picturesque swim. None of us actually ended up going in, because it wasn't "hot" (or even warm) as we had hoped, but it did make for a beautiful photo op and a small post-plane hike, hike.

Fjadrargljufur Canyon: This canyon is one of the things I was really looking forward to visiting in Iceland. Just our like, the trail to the view I had wanted was closed when we went. Nonetheless, we walked to the bridge at the base of the canyon and admired its beauty as much as we could. It's a series of beautiful green mossy cascading rocks.
Jokusarlon Glacier: The famous glacier that encompasses such a huge part of Iceland. Admittedly, we were rushed for daylight and didn't spend the time to stop and admire it in one of the parks (I think my only regret about this itinerary), but it was still an incredible drive-by sight.
Finally, we kept driving around the Ring Road until we found a small town we could camp in overnight.
Day 3: Chasing waterfalls (and missing them)…
The thing about Iceland and waterfalls– there are SO many of them (with names you'll never be able to remember or pronounce), and yet they're all so unique in their beauty. Every waterfall has some sort of distinctive look to it that makes them so fascinating to just keep visiting. We had two waterfalls on our list for this day, and we absolutely failed at both of them.
Hengifoss: Look, to be totally honest, we didn't end up making it to Hengifoss (although we planned to). This waterfall is about a 40 minute hike from the parking lot, and the weather was absolutely terrible when we got there. Having already had two rough nights of camping and windy weather, we took pictures near the parking lot (still gorgeous canyon settings) and continued our drive for the day. Sometimes you don't always catch the waterfalls you chase…
Detifoss: Waterfall take number 2, and we failed yet again. To be fair, this one wasn't our fault. The road to Detifoss was, well, not a road per say. And an "at your own risk" situation. Considering we were driving a massive campervan vs. a 4×4, we ended up turning back after a short attempt at getting to this waterfall. On the plus side, we drove through some amazing ice/salt fields on the way that made for another great photo pit stop!
Myvatn Nature Baths: So these baths actually weren't on our list at all, we had written them down as a "discount Blue Lagoon" alternative, but didn't plan to go since we'd already done the Blue Lagoon. After our previous two failed waterfall attempts, we needed something to bring us back into good spirits for the day so we decided on another hot springs soak! I actually loved these baths for a totally different reason than the Blue Lagoon — it was much less busy and tourist-factory feeling,  but definitely much smaller and less breathtaking for the baths themselves. I don't think both are necessary to visit in one trip, but I don't regret the addition and they each have their pros/cons.

Overnight, we parked in the town nearby the Myvatn baths (Reykjahlio), since our next destination was so closeby in the morning.
Note: On day 3 between the East coast and North side of the island, we had to drive through a complete whiteout. I've never experienced conditions like this in my life– we happened to make it right as the whiteout was starting, so the road was closed shortly thereafter. We were stuck for an hour or two in inching traffic as you could barely see the car in front of you, let alone the sides of the road. We were thankful that we didn't have to deal with a road trip delay from the road being closed, but definitely something to keep in mind if you're traveling at a similar time of year!
Day 4: Winter is Coming
Myvatn Geothermal Area: A non-planned itinerary item, we ended up pulling off the side of the road on the way to the Grotagja Crack to walk around a marked Geothermal tourist stop. Iceland is a crazy place to visit because it feels like you're seeing 4 different planets in one country. Walking around this area with steaming pools of water on the ground and changing tones of soil was like visiting Mars for the first time.
Grotagja Crack: This one's for the GOT fans. This beautiful cave is hidden away in the same Myvatn area of Iceland, and used to be used as hot springs for bathing, although entry has since been prohibited. Game of Thrones filmed a steamy scene here with Jon Snow, so we had to add it to the list of course.
Godafoss Waterfall: This was my favorite waterfall that we saw, and for Iceland, that's a big statement. It's HUGE, and beautiful. We got some of my favorite photos of the trip here, and it was really easy to just drive up and park vs. a hike.
Akureyri: After the wilderness of Iceland for 3+ days, we were excited to see another "city" on our route across the island. Akureyri is the second largest town in all of Iceland, on the Northern coast of the island. It was a really cute and quiet town, but we had a lot of fun just walking around and getting a good sit down lunch. And of course, not nearly as many tourists make it this far from Reykjavik.
Hvitserkur: A beautiful black sand beach! This was such a nice change of scenery from all the whites and blues and waterfalls that we'd seen in the past few days, it reminded me of parts of New Zealand.
Day 5: The Must-Sees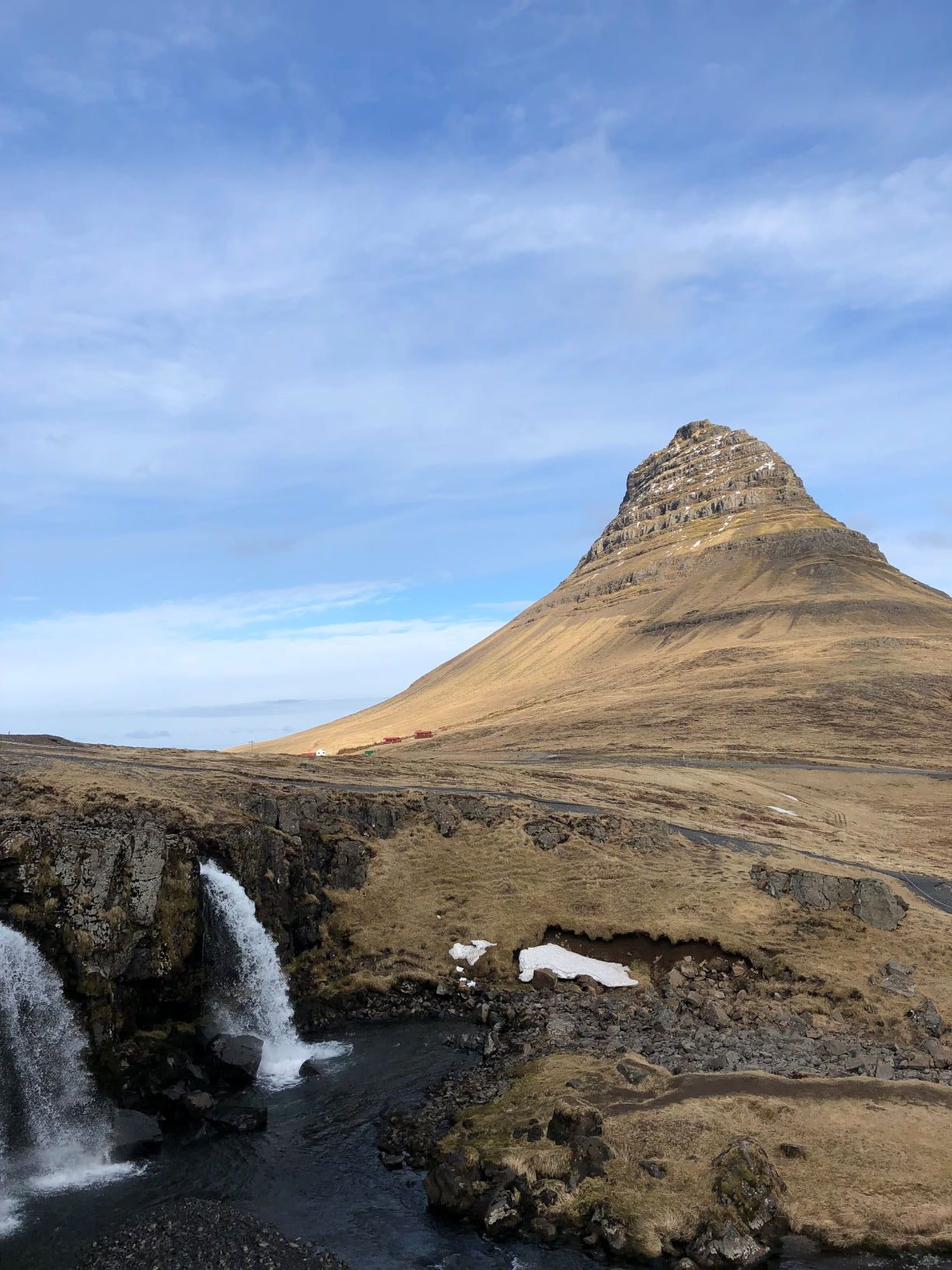 Kirkjufell Waterfall: The famous Kirkujfell — many people will actually just drive straight here from Reykjavik for photos of the swirling mountain and waterfall combination, since it's not too far and can be done in a 1-2 day itinerary. To be honest, we were a little underwhelmed with the size of it, after seeing so many famous photos of the scene, but it was still an incredible sight and we were clearly spoiled by a week in this beautiful country under our belt.
Svortuloft Lighthouse: This lighthouse is also relatively famous, and in between Reykjavik and Kirkjufell. It's an orange lighthouse on the same Western peninsula, famous for Puffins if you're in the right season (which we were not). The contrast of the orange against the black rocks and mossy green plants was absolutely breathtaking. Beware of the rocky road to get to the lighthouse however.
Our full route:
We spent night 5 and day 6 back in Reykjavik, enjoying the small town before setting off on our big European adventure. In full disclosure, we had originally booked a hostel for this night, but after 5 days of campervan-ing, decided to spoil ourselves with a hotel instead. And BOY did it feel good to have a real bed and a private room. Reykjavik is such a cute town to walk around in, we fell in love with the vegan bakery and the adorable coffee shops while we were there.
Iceland is like no other place I've ever been, and I can't recommend it enough! Blood, sweat and tears– it was one of the fondest memories we all have but it really took a lot to withstand those conditions for so long.