While I am a serial under-packer and my family is notorious for two-week travels across the globe with one carry-on per person, I've never done a real backpacking trip. My challenge: 10 weeks, 16 countries, 2 seasons, and one 55L backpack. Now it sounded doable at first, until I realized packing for Iceland in March is very different from Greece in May. After packing and unpacking multiple times (and cutting a few beloved favorites) I have come to one very packed 55L backpack, and all of essentials for the next ten weeks.

Row one (left to right):
Columbia Jacket Of All Trades Interchange Jacket: Okay I know this one isn't everyone's style. I'm no Instagram fashionista sporting this jacket in Europe, however this jacket does it all. The photo shows parka mode, which can also be divided into an underlayer and an outer light(er) rain jacket. The inner layer is reversible (although I hate the pattern on the inside, so I won't be using that function), and the blue part of the rain jacket comes off to create a utility vest. Sure, I'll look a little safari, but I couldn't turn down the multi-functionality of this jacket and I think I'll be quite thankful for the warmth in Iceland.
32 Degrees Women's Rain Jacket Coat Weatherproof: I did want an extremely light waterproof jacket as another option, and this one folds down into nearly nothing. I figured this would be a good option for more athletic activities like hiking in Norway, or light rainy days in the city.
Patagonia Nano Puff: This simple down pullover folds into its own pocket but packs a lot of warmth for its size. Considering my brief stints in Iceland and Norway, I figured it was a good option for layering and could be worn on its own to replace a sweatshirt.
Row two (left to right):
Flannel: Okay maybe this is the inner PNW in me, but I couldn't bare the idea of going 10 weeks without a flannel. I chose my favorite thin free people black/white checkered flannel (which packs up very small again).
Denim Jacket (*optional*): This one, I will say is a luxury. If you're really jammed for space, I'd recommend a denim shirt instead, but I couldn't pass up bringing my denim jacket since I know I'll end up wearing it every day. It can be dressed up or down and will hopefully make my outfits a little less obviously "tourist".
32 Degree Cool Base Layer Shirt: I found these thermal layer shirts from 32 Degree Cool at Costco, and I actually love how flattering they look. They're intended to be a warmth layering piece, but I think I will also just use it as a basic t-shirt or for layering under jackets.
Row three (left to right):
Denim Jeggings: I don't even own a pair of real jeans anymore, so it was easy for me to pick my favorite pair of dark wash jeggings to pack on the trip. They go with anything, and will give me a non-black pant option.
Black Jeggings: A staple in my wardrobe—black jeggings can be casual everyday wear or worn for a night out at a bar.
Black Cropped Yoga Pants: An option for warmer weather, or for working out. I chose basic black so it would match everything else I packed.
Running Shorts: I brought my favorite black running shorts for working out, or pajamas.
Patterned Shorts (*optional*): In case it gets a little warmer, I brought some patterned cotton shorts that can be worn casually or as pajamas if I end up using the running shorts to work out in.
Row Four:
Three tank tops for layering: I chose black, beige, and white. My tank tops are very plain and can be used with my jeggings at the bar, or with running shorts for a workout. These are what I wear every day at home, so I knew I couldn't live without them.
Two Basic T-shirts: I packed two t-shirts (that I received free from events/clubs/school) that were small, comfortable, and cute enough to wear on a casual day. These will be all purpose—daily wear, sleeping, and working out. You name it!
Row Five (left to right):
T-Shirt Dress: I packed a long-sleeve t-shirt dress as my one dress for the trip. It can be used in colder weather with a jacket and my booties, or in warmer weather with the sleeves rolled up and sandals.
Dressier Blouse: I chose to bring an off-the-shoulder flowy black blouse as my dressier top. I wanted a slightly dressier top for going out at night (paired with jeans/black jeggings for colder cities, or patterned shorts for warmer cities).
One-piece swimsuit (*optional*): This one I will admit is completely a luxury, but I fell in love with the Raina bodysuit from LaReveche Swimwear (an Italian boutique). Not quite as pictured, but it's a long-sleeve off the shoulder swimsuit with a ruffled trim. This one is purely for photos (i.e. blue lagoon and pools in Morocco), however it also transforms to a gorgeous bodysuit for going out at night when paired with pants or a skirt.
Bikini: Just a simple bikini that packs down small for any other times we might have a little fun at the beach!
Row Six (left to right):
Nike Free Runs (fly-knit): These shoes are my holy-grail, travelling or at home. They weigh nearly nothing and are extremely comfortable to run in or just wear everyday.
Jeffery Campbell Stormy Rain Boots: While I don't like wearing these for too long in a single walking day (they get a little stuffy), they are a great waterproof option to bring for city walking or even hitting the bars at night. Stylish enough to look good with a dress, but comfy and waterproof enough to be functional.
Birkenstock Arizona Sandals: I couldn't go more than two weeks without my Birks—it was a given they were coming with me. This neutral color matches most of the rest of my packing list.
Hiking Boots (*optional*): Now this one you may or may not need. Since my trip consists of 10-days hiking around Iceland and a big trek in Norway at the end, I'm bringing along my old hiking boots. They do make the bag much bulkier (so I'm planning on wearing them for flights), but it's up to you how necessary this is.
While not pictured, please also remember a cheap pair of shower flip-flops if you're planning on staying at a hostel like me!
So there you have it! These are the only outfits you'll catch me in for the next 10 weeks, ha. As I was deciding what to pack with my friends, we realized that we each chose a few of our little luxuries to bring along. Mine being a denim jacket and one-piece swimsuit, Emma chose her bright orange pullover sweater, and Val chose her camera. I managed to pack all of this (and some more) in a 55L Osprey Ariel backpack using packing cubes and the rolling technique.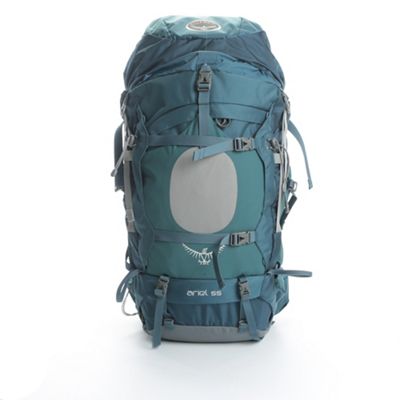 Now for my non-clothing packing essentials, watch out for the next blog.